What is Self-Directed Learning (SDL)?
"In its broadest meaning self-directed learning describes a process by which individuals take the initiative, with or without the assistance of others, in diagnosing their learning needs, formulating learning goals, identifying human and material resources for learning, choosing and implementing appropriate learning strategies, and evaluating learning outcomes" (Knowles, 1975).
What do we do at the Research Unit for Self-Directed Learning?
Our vision is to promote self-directed learning that will lead to life-long learning in all education sectors through excellent research.
Our mission is furthermore:
To conduct relevant research on strategies and contexts that contribute to self-directed learning skills for the 21st century with its unique 4IR demands;
To optimise the quality of our research outputs and to disseminate the results thereof locally and internationally;
To support academic staff to develop relevant knowledge and to gain international recognition;
To provide quality postgraduate training in order to promote self-directed learning in all education sectors;
To share our knowledge - where possible through open licenses or in the public domain - to promote self-directed learning practices.
To conduct research on self-directed learning for community engagement
In our research we focus on the promotion of self-directed learning in all education sectors. We aim to propose strategies for diverse contexts which can contribute to the development of self-directed learning skills. The aim is to broaden the body of scholarship of SDL internationally and on the African continent.
---
UNESCO Chair on Multimodal Learning and OER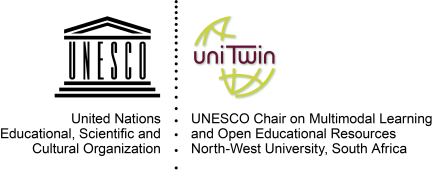 The establishment of a Chair on Multimodal Learning and Open Educational Resources (OER) at the North-West University (NWU) was recently approved by UNESCO. The Chair falls within the Research Unit Self-directed Learning (SDL) of the Faculty of Education.