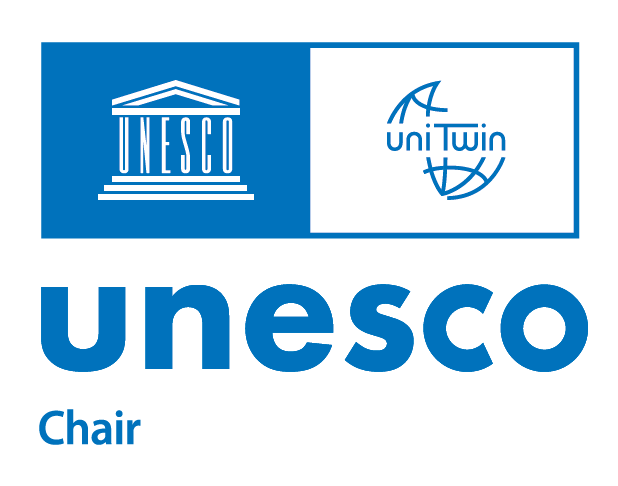 ​
Introduction
The UNESCO Chair on Multimodal Learning and Open Educational Resources (OER), hosted by the North-West University, South Africa, was established in April 2019. The Chair aims to promote an integrated system of research, training, information and documentation sharing on self-directed multimodal learning and OER. The Chair is situated within the Research Unit Self-directed Learning (SDL) of the Faculty of Education at the North-West University in Mahikeng. The Chair was led by Prof Jako olivier from 2019 to 2022 and is now led by Prof. Dorothy Laubscher, Associate Professor in Mathematics Education from the North-West University.
The promotion of multimodal and self-directed learning has been identified as important aspects in the NWU Teaching and Learning Strategy as part of the university's commitment to accessible and relevant high quality teaching and learning, with a view to enhancing student success as well as experience of the curriculum.
The research for this Chair will focus on multimodal learning (a blending of face-to-face and e-learning modalities) as well as the multiliteracies required for culturally appropriate and effective learning within an environment that is conducive to self-directed learning and Open Educational Resources (OER) (peer-reviewed shared online resources that include material, books, videos, lessons and even full courses).
The purpose of the research chair is to (1) build networks in Southern Africa around OER and multimodal learning, (2) build capacity at the NWU and in Southern Africa, (3) train and develop academic expertise among staff concerning multimodal learning and the creation and use of OER as well as (4) doing research on OER and multimodal learning.The NWU has already taken a leading role in promoting multimodal learning and research on OER in the region and internationally. The establishment of the UNESCO Chair was recommended by the NWU's Institutional Committee for Research and Innovation on 14 September 2016. The formal agreement with UNESCO was signed on 15 April 2019.  The NWU applied for renewal of the Chair in November 2022. On 7 March 2023, the NWU was informed by UNESCO that the renewal was approved and that the agreement between UNESCO and the NWU concerning the UNESCO Chair on Multimodal Learning and Open Educational Resources will remain valid until 30 June 2027, with Prof Dorothy Laubscher as chairholder.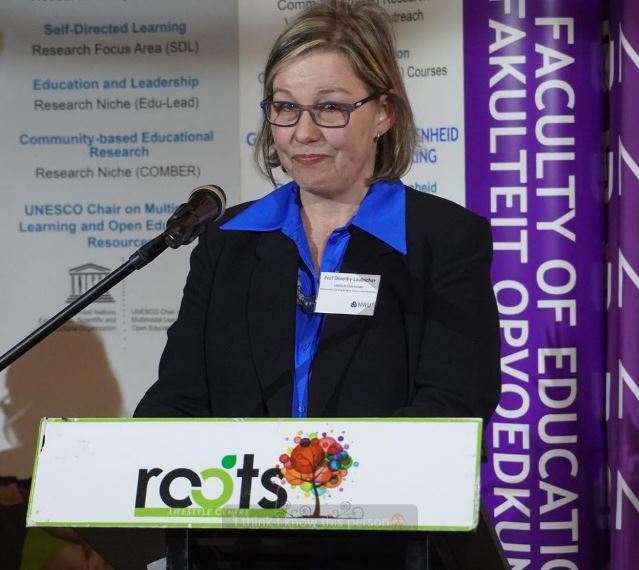 Prof Dorothy Laubscher: Chairholder
OPEN EDUCATION WEEK 2022
The UNESCO Chair on Multimodal Learning and OER celebrated the 10th year of the Open Education Week (https://oeweek.oeglobal.org/).
For 2022 the Chair was involved in the following events:
- Hosting of the Prestige Lecture by Thomas P. Mackey and Trudi E. Jacobson: Open Pedagogy and Metaliteracy
Tuesday 8 March 2022.
- Colloquium: Creating open content in the Global South: A dialogue between Lebanon and South Africa
Presenters: Jako Olivier (North-West University, South Africa) & Eugene Sensenig (Notre Dame University, Lebanon)
Wednesday 9 March 2022.

- Webinar 'OER for Microlearning' as part of the Open Education Week, Kingdom of Saudi Arabia. 10 March 2022. Presentations by myself, Prof. Rory McGreal (UNESCO/ICDE Chair in OER), Dr Wayne Mackintosh (UNESCO Chair in OER),  Prof. Mpine Makoe (Commonwealth of Learning Chair in Open Education Practices/Resources) and Dr Rami Alsakran (Saudi Arabia Deputy General Director for Planning & Development, National eLearning Center).
RECENT PUBLICATIONS

Contextualised open educational practices: Towards student agency

and self-directed learning was published as open access in 2022

https://books.aosis.co.za/index.php/ob/catalog/book/345

Self-directed multimodal learning in higher education was published as open access in 2020
https://books.aosis.co.za/index.php/ob/catalog/book/210

​


Radical Solutions for Education in Africa: Open education and self-directed learning in the continent edited by Daniel Burgos and Jako Olivier was published in 2021
https://www.springer.com/gp/book/9789811640988

​

 

NWU OER FELLOWS

The UNESCO Chair on Multimodal Learning and Open Educational Resources launched the NWU OER Fellows programme for NWU Staff in 2021.

SOUTH AFRICAN DIGITAL HUMANITIES OER CHAMPIONS

The UNESCO Chair on Multimodal Learning and Open Educational Resources (OER) will be facilitating the South African Digital Humanities OER Champions for 2022 in collaboration with the South African Centre for Digital Language Resources (SADiLaR) through the ESCALATOR Digital Champions Initiative.

Scholars from South African universities are invited to apply to participate in the Digital Humanities OER Champions Initiative. This is an ideal opportunity for researchers, lecturers, and postgraduate students interested in including new online resources in their teaching or adapting their resources to their students' specific contexts to receive support and funding for creating or adapting open learning content and researching the process.

The programme, facilitated by Jako Olivier, aims to stimulate activism and research around the use and/or creation of OER for the digital humanities (DH) at universities in South Africa.

For more information:
https://escalator.sadilar.org/champions/dh-oer/

​

 


NOMSA
The Network of OER and Multimodal Self-Directed Learning in Southern Africa (NOMSA) is an initiative of the North-West University's UNESCO Chair on Multimodal Learning and OER: http://nomsa.org/
 

​Visit our Facebook page

More information on the UNESCO chair programme: https://en.unesco.org/unitwin-unesco-chairs-programme