RECENT AND UPCOMING EVENTS
- Hosting Prof. Daniel Burgos, Vice-Chancellor for Research and Technology & UNESCO chair on eLearning, International University of La Rioja, Spain - with a presentation on 20 November 2019 (Potchefstroom)
- Hosting Prof. Tel Amiel, UNESCO Chair in Distance Education, University of Brasília, Brazil - with presentations on 12 November 2019 (Vanderbijlpark), 13 November 2019 (Mahikeng) and 14 November 2019 (Potchefstroom).
- Presentation at the NWU Open Access week (21 October 2019 - Potchefstroom)
- Keynote address at the International Conference on Information Literacy (ICIL) (23-25 September 2019 - Vanderbijlpark)
- Keynote address at the Nadeosa Annual Conference (5 July 2019 - Roodepoort)
- Paper at the A-MODE International Conference: Approaches to Multimodal Digital Environments: from theories to practices (20-22 June 2019 - Rome, Italy).
---
UNESCO CHAIR KEYNOTE AT THE OPEN ACCESS WEEK
Prof. Jako Olivier, UNESCO Chair on Multimodal Learning and Open Educational Resources, presented the opening keynote address at the NWU library's colloquium for the Open Access Week 2018 on 22 October. The theme of this globally celebrated event for this year was designing equitable foundations for open knowledge. Prof. Olivier presented a paper entitled "Being able to read open educational resources: exploring multiliteracies in support of equitable open knowledge".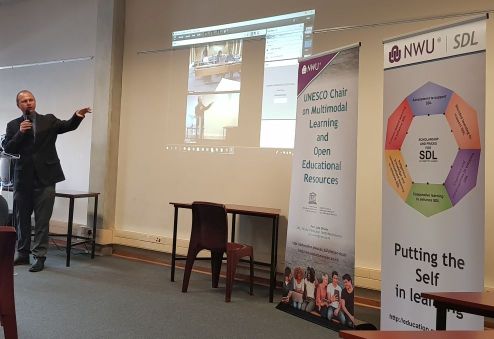 UNESCO CHAIR VISIT TO BOTSWANA NOVEMBER 2018
Prof. Jako Olivier visited the Botswana Open University and the University of Botswana on 19 and 20 November 2018 as part of the networking responsibilities of the UNESCO Chair on Multimodal Learning and Open Educational Resources. The visit included a presentation to the staff of the Botswana Open University on Open Educational Resources, meetings with deans and Prof. Frank Youngman (BOU Deputy Vice Chancellor – Academic Services) as well as discussions with research collaborators and potential postgraduate students.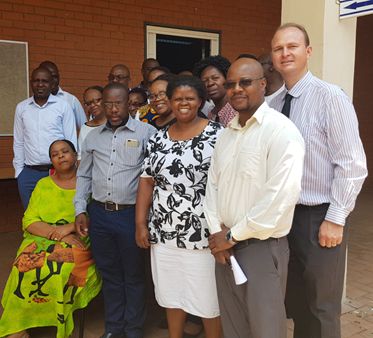 VISIT TO NAMIBIA: APRIL 2019
Prof. Jako Olivier had the privilege to visit the University of Namibia (UNAM) earlier in April 2019 in order to explore collaboration opportunities in terms of the research done as part of the UNESCO Chair. He presented two lectures on Monday: one on multiliteracies within the context of self-directed learning and the use of open educational resources (OER) and one on equivalence in contact and distance modes of delivery. Furthermore, he had discussions with the staff of UNAM's Centre for Open, Distance and eLearning (CODeL) as well as the Deputy Dean and some staff members of their Faculty of Education.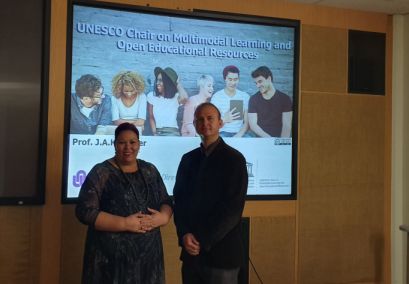 NWU OPEN ACCESS WEEK 2019
The UNESCO Chair on Multimodal Learning and OER took part in the NWU's Open Access Week programme for 2019 with a presentation entitled, Towards lingual equity: the language of open knowledge. The photograph below shows the speakers at the event in Potchefstroom on 21 October 2019.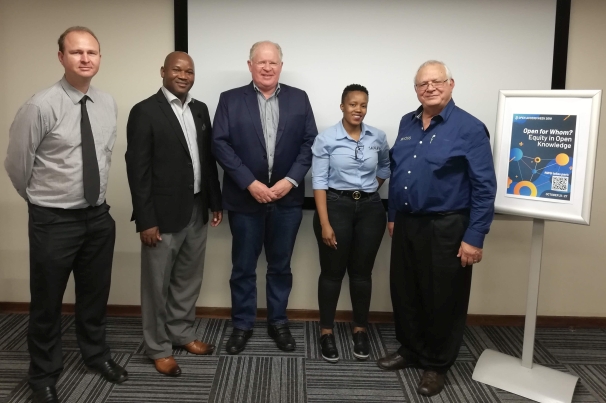 From left: Prof. Jako Olivier (UNESCO Chair on Multimodal learning and OER), Dr Mathew Moyo (NWU Chief Director Library and Information Service), Dr Pierre de Villiers (AOSIS), Ms Valencia Wagner (SADiLar) and Prof. Andries van Aarde (AOSIS).